Careers at Mid Oregon 
Mid Oregon Credit Union
named a
2022 Top Workplace
Mid Oregon Credit Union has been awarded a Top Workplaces 2022 honor by Oregonian Top Workplaces. \
This list is based solely on employee feedback gathered through a third-party survey administered by employee engagement technology partner Energage LLC.. The anonymous survey uniquely measures 15 culture drivers that are critical to the success of any organization, including such attributes as alignment, execution, and connection. 
"Earning a Top Workplaces award is a badge of honor for companies, especially because it comes authentically from their employees," said Eric Rubino, Energage CEO. "In today's market, leaders must ensure they're allowing employees to have a voice and be heard. Top Workplaces do this, and it pays dividends."
---
Check Available Positions
Want to see our available positions? Click the button below to check for current openings, post your application, and even complete your new-hire paperwork all in one place.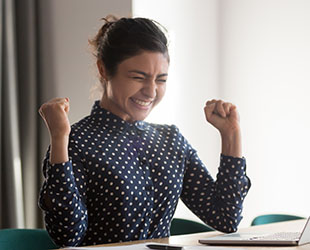 Mid Oregon Credit Union is a drug-free workplace.  Mid Oregon Credit Union is an Equal Opportunity Employer.
Transparency in Coverage Statement:  The Consolidated Appropriations Act's Transparency in Coverage Rules require group health plans to disclose on a public website information regarding in-network provider rates and historical out-of-network allowed amounts and billed charges for covered items and services in two separate machine-readable files (MRFs). The MRFs for the benefit package options under the Mid-Oregon Credit Union health plan is published here. 
---
In a recent confidential survey, this is what our team had to say about a career at Mid Oregon...

Why would you recommend working here?
"… The managers at this Credit Union are focused on each individual's growth… it's easy to make a job here into a career."
"Great opportunity for growth in a local, Central Oregon based organization. Work environment is positive and secure."
"Good People, consistent hours, no weekends."
What keeps you motivated?
"Being able to help people."
"The 'family' culture."
"The people I work with every day."
What makes you stay?
"Excellent working conditions, great coworkers with good attitudes, wonderful members to work with, pay and benefits. Stable employer."
"There might be offers with more money, but it's not even a consideration because I believe in the Credit Union and the people that work here, and I can't imagine being anywhere else."
"The environment and the career path that I have found for myself."
Are you humble, hungry and smart?
We're on the lookout for teammates who share these characteristics:
Become a member of the Mid Oregon team! You will find a career with Mid Oregon to be challenging and rewarding. Our credit union is growing rapidly and we are interested in hearing from enthusiastic, dedicated and qualified people who are looking for a career opportunity.
Mid Oregon Credit Union is rated above average for Job and Self-Satisfaction, Recognition, Honesty and Integrity, Concern for People, and Supervisor Relations.
Humble: Don't think less of yourself, think of yourself less.
Hungry: Driven by team success.
Smart: Understands how to work with and lift up others.
---
Mid Oregon team members receive:
Benefits
Pay: Minimum $18/hour starting wage
Paid Vacation: Three weeks per year for a full-time employee. Increases at 5, 10 and 20 years. Personal leave 8 hours/year
Paid Sick Benefits: One hour for every 30 hours worked, up to 40 hours/year.
Paid Holidays: All Federal Reserve holidays
Medical/Dental/Vision: Coverage begins the first of the month after 60 days. Affordable family coverage available.
Life Insurance: $50,000 per employee
ong-term disability Insurance
Paid Volunteer Hours: 20 hours per year full-time and 10 hours for part-time employees.
Retirement Plan: Available to full and part-time employees. Matching contributions up to 6% of gross pay after one year. Contributions are fully vested.
Flexible Spending 125C: Use pre-tax dollars for expenses such as childcare, unreimbursed medical, etc.
Optional employee-paid Aflac and ambulance benefits
Culture and work environment
Predictable schedules with weekday hours
Internal training 
Tuition reimbursement programs 
Opportunities for career growth and advancement
Locally headquartered in Central Oregon
Great organizational culture 
Credit union logowear 
Fun working environment with a great team
Work for a growing organization with a leadership role in the community
Opportunity to make a difference in members' lives
Community involvement opportunities at Mid Oregon sponsored events.