Debit Cards
Worldwide convenience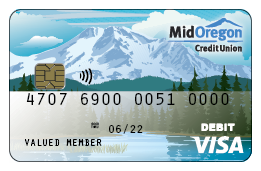 With your Mid Oregon Debit Card, shopping at home, online, or at locations around the world has never been easier. Withdraw cash from more than 30,000 surcharge free CO-OP Network ATMs throughout the U.S. and Canada including ATMs at most 7-Eleven Stores; and access more than 800,000 ATMs worldwide.
Use with your favorite mobile wallet platform for contact-free payment convenience
You can also add your Mid Oregon Debit Card to your Apple Pay™ or Samsung Pay™ mobile wallets for added security and convenience!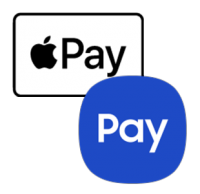 Debit Card Features
No Fees
Online and Mobile banking
Account alerts when money goes into or out of your account
HSA Debit Card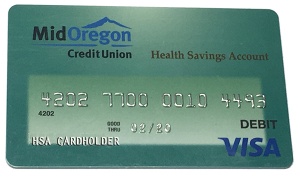 If you have a Health Savings Account, you can request an HSA Debit Card to conveniently pay for and track your health care expenses.  It's accepted at most medical centers, hospitals and pharmacies that accept VISA. 
To activate your VISA Debit Card
For lost or debit/credit stolen cards, please call (541) 382-1795 or (800) 452-3313 during our business hours Monday-Thursday, 9 a.m. to 5 p.m. and Friday, 9 a.m. to 6 p.m.  
For weekends and after hours, call 888-241-2440.
Traveling soon?
If you're planning to leave the state or the country, be sure your card functions perfectly during your trip. You can submit a Travel Notice yourself anytime within Digital Banking. Just select Cards in the Accounts menu, and select the card(s) you'll be using. Or, send us a message using the Messaging Center and we'll help you get started!