Prineville Oregon Branch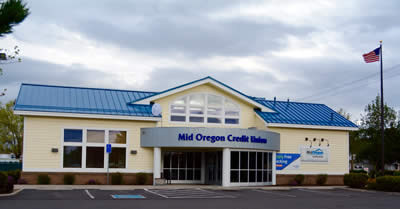 Mid Oregon Credit Union's branch on NE Hickey Farms Road in Prineville Oregon is open weekdays. The branch offers a full-service lobby, drive-up ATM, coin counting (member and team access only), and night deposit drop. Mid Oregon offers auto and mortgage loans, credit cards, IRAs and CDs, business accounts and loans, and free checking accounts for individuals and businesses.
Not a member yet? Mid Oregon Credit Union serves anyone who lives, works or goes to school in Deschutes, Crook, Jefferson, Wheeler, Lake, and North Klamath Counties within the COCC Taxing district. Become a member today and enjoy local banking with your trusted credit union.
Location
305 NE Hickey Farms Rd.
Prineville, OR 97754
Mailing Address:
PO Box 6749
Bend, OR 97708-6749
(for payments and correspondence)
Contact
Phone:
(541) 382-1795
Telephone Teller:
(541) 382-0981
Routing Number:
323274186
Branch Features
Drive-up ATM
Night Drop
Handicapped Access
Lobby Hours
Mon–Thurs:
9 am – 5 pm
Friday:
9 am – 6 pm
Saturday & Sunday:
Closed
Mid Oregon Credit Union's Prineville Oregon Branch