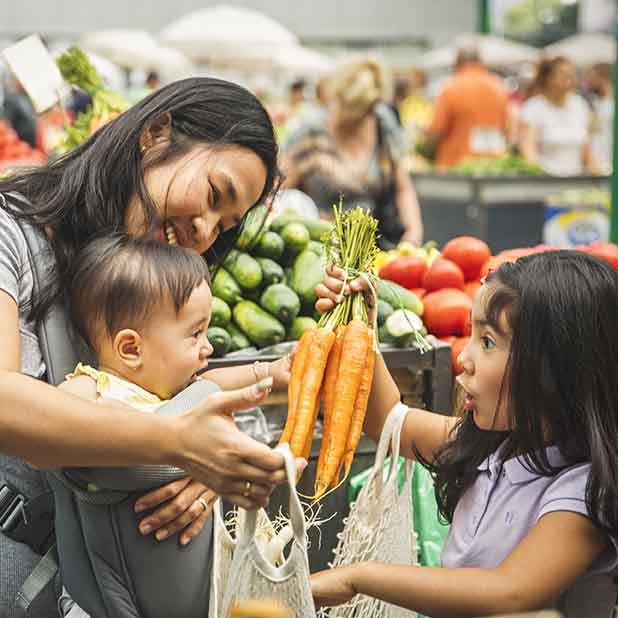 VISA® Credit Cards
Worldwide acceptance, local service
Your Mid Oregon Credit Union VISA card offers you convenience and immediate access to the funds you need to make purchases, reserve hotel rooms and rental cars, and shop online.  Like other VISA cards, it is good the world over - accepted by more merchants, restaurants and hotels than any other credit card. Whether you need a card for everyday purchases to maximize your rewards, or you want a card for emergencies or special purchases (and a great low rate), we have just the card for you.
Card Options for Every Spending Need
Apply now  current rates VISA Credit Card Application Disclosure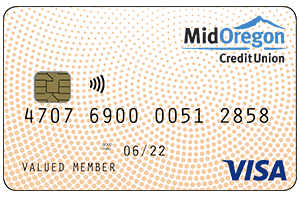 Earn rewards for every dollar you spend, and earn DOUBLE POINTS for everyday purchases like fuel and groceries!
Redeem your points for merchandise, gift cards, cash and even your next purchase! You can even pay it forward by donating your point value as a contribution to local community non-profits!
Visit Everyday Rewards to see what you can earn!
Maximum Credit Limit: $25,000
Annual Fee: $50, waived with $5,000+ in annual purchases
Apply Now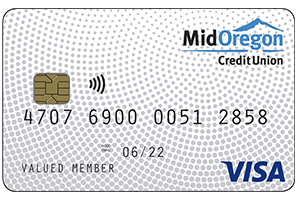 Platinum VISA
Need a no-nonsense, affordable credit card for large purchases and emergencies? Our Platinum VISA offers a great low rate and is the dependable choice for consolidating your high-rate credit cards, too!
Maximum Credit Limit: $25,000
Annual Fee: $50, waived with $2,500+ in annual purchases
Apply Now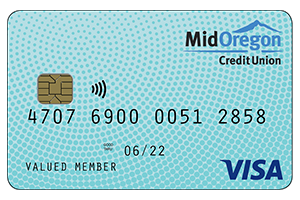 Secured VISA
If you're ready to start building—or re-building—your credit score, our Secured VISA is a great choice! Your spending limit is based on the amount you have saved to secure the card. Have all the benefits of a credit card while you build your savings and learn smart credit habits!
Minimum Credit Limit: $250
Maximum Credit Limit: $10,000
Annual Fee: $25, waived with $1,000+ in annual purchases
Apply Now
What do you need from your credit card?
FEATURES

eVERYDAY
REWARDS
visa

PLATINUM
VISA

sECURED 
vISA
Worldwide acceptance

✔


✔


✔


Enhanced security features, including real-time fraud alerts

✔


✔


✔


Contactless payment feature—just wave and go! 

✔


✔


✔


Personal, local service when you need it

✔


✔


✔


No cash-advance fees

✔


✔


✔


Generous rewards with every purchase!

✔


✔


✔


A great low rate for those who carry or transfer a balance
 

✔


 
Convenient card for emergencies and big-ticket purchases
 

✔


 
Options for building or rebuilding a good credit history
 
 

✔

---
A Mid Oregon VISA provides every cardholder these features:
Instant issue — Get your new or replacement card before you leave the branch!
No balance-transfer fees — Consolidate your balances from your high-rate national cards!
25 Day Grace Period — Balances paid in full by the 12th of the month incur no interest
Sophisticated fraud detection — Keep your account safe, especially when traveling or buying online!
Fraud alerts by text or email — We'll notify you automatically if any suspicious activity is detected
Cash Advance Capability — A Mid Oregon VISA can get cash through ATMs and financial institutions all over the world. No fee charged by the credit union for cash advances.
Contactless payment — All our cards are enabled with contactless payment. Just wave and pay!
Apple Pay and Samsung Pay - Add your Mid Oregon credit cards to your digital wallet for secure, convenient payment on the go.
Easy account management — Use our convenient Digital Banking platform to easily turn your card off or on if it's ever misplaced or stolen, right from your mobile device! Track your spending, make a payment from your checking account, and redeem your Everyday Rewards right from the app.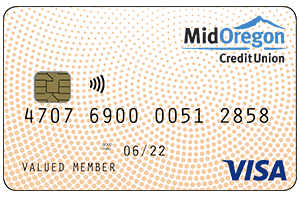 To activate your VISA/Debit Card
For lost or debit/credit stolen cards, please call (541) 382-1795 or (800) 452-3313 during our business hours Monday-Thursday, 9 a.m. to 5 p.m. and Friday, 9 a.m. to 6 p.m.  
For weekends and after hours, call 888-241-2440.
Traveling soon?
If you're planning to leave the state or the country, be sure your card functions perfectly during your trip. You can submit a Travel Notice yourself anytime within Digital Banking. Just select Cards in the Accounts menu, and select the card(s) you'll be using. Or, send us a message using the Messaging Center and we'll help you get started!