Digital Banking: Industry-leading, and now even better!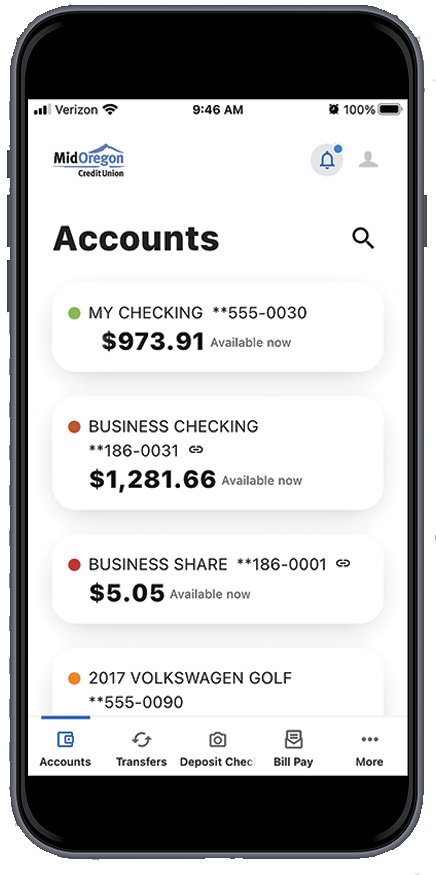 See all your accounts in one place!
Our constantly-evolving platform gives you a more streamlined way to view all your accounts, better security, more control over what you see (and what you don't), and a more visually appealing user experience.
EVEN BETTER MOBILE APP—Our mobile app is being upgraded to simplify mobile deposits and provide a cleaner, simpler view.
---
One person, one login
Our platform has a member-centered interface that simplifies logins and ensures that every user has the experience they want, even if they're on the same account. Add external accounts, hide and show the accounts you want to see, and color code for easy reference.  You can even set up others to view and conduct transactions on your behalf. 
Never used digital banking before? Click the green Account Login button at the top of the page and choose "Register" to get started, or to download the mobile app to your device. 
---
Packed with features…
Want to make a quick transfer between accounts, including those at another institution? It's a snap to set up, and no more fees!
Wish it were easier to transfer to another member? Yep, we've got you covered there too. Transfer to other members quickly and easily without having to call or come into a branch. 
Want real-time access and advice about your credit score? Want to apply for a loan, initiate a travel notification for your debit card, or skip a payment? You can do all that and more!
---
Special tools for business, too!
Managing your business is different from managing your personal funds, so ask us about the special features for both small and large businesses!
---
KEEP YOUR ACCOUNT MORE SECURE
To maximize the security of your Digital Banking login, we're changing the approved methods for account recovery within Digital Banking. Ensure your two-factor authentication is updated to employ the latest recovery methods, such as a voice call, text message, or a third-party authenticator app. Beginning March 1, 2023, only these recovery methods will be available. Click the button to see the steps and options for updating your settings. 
Thank you for your cooperation in securing your financial information!
Information for Converting your Quicken/Quickbooks from previous Online Banking platform