Digital Banking Features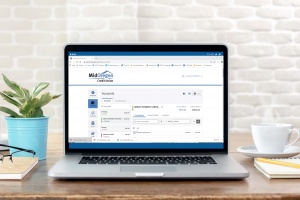 Everything you need to manage your accounts
With Mid Oregon Digital Banking, you can safely and securely manage your money wherever you are. Pay bills, transfer funds, view your accounts, deposit a check using your smartphone, and open new accounts or loans. We even have a host of special services, like free credit reports using Credit Savvy, and the ability to build and track your spending and savings goals!
Standard Features
View all your accounts in one place. You can even add your accounts from other institutions!

 

Easily transfer funds between Mid Oregon accounts, and even to other Mid Oregon members.

 

Deposit paper checks using your device's camera.

 

Set account alerts to notify you by text message or email.

 

Easily send a message to inquire about a transaction or ask a question about your account.

 

Manage your cards, pay bills, and even initiate transfers to external accounts with no fees!

 

Personalized logins for multiple account owners—no more shared passwords! 
A Widget for Everything
Whether you need to initiate a transfer, stop payment on a check, or review your progress towards your savings goals, there's a widget for that. Here are some of the basic widgets you'll find Digital Banking. You can add, reorder, and modify your favorites in the Widget Settings widget or in the Settings menu located on the upper left of your Desktop view. 
Note: Some widget functionality may differ between the desktop and mobile app.
---

Dashboard Widget
Click to view all your accounts and widgets in one spot. You'll also see your most recent Credit Savvy credit score, articles and more. 
---

Accounts Widget
Click individual accounts to view and categorize transactions, see details, deposit checks (mobile),  and view analytics. 
---

 BillPay Widget
Set up payees, schedule bill payments for a person or business, view your payment history, and manage your bill payments.
---

Transfers Widget
Set up external accounts for electronic transfers; initiate transfers between accounts and to other members, too! 
---

Card Management Widget
Set up your Mid Oregon credit and debit cards for added security. Turn your cards off/on with a single click!
---

Check Services Widget
Initiate a stop payment request on a recent check, or reorder checks quickly and easily.
---

E-Statement Widget
View up to two years' worth of account statements, switch to paper statements, and view your tax forms and account notices, too. 
---

Credit Savvy Widget
—new!
Enroll in Credit Savvy to view your credit score for free any time you like, track it over time, and learn what steps you can do to improve it. 
---

Financial Wellness Widget
—new!
View your spending by category to stay on track toward your financial goals!
---

Savings Goals Widget
—new!
Use the Savings Goals widget in the desktop version to set and track your saving on any savings account. 
---

Quick Apply Widget
Apply for a new loan or credit card, or open a new savings account while logged in to Digital Banking. 
---

Message Center Widget
Staying in touch with Mid Oregon was never so easy! Quickly and securely send us a message or ask a question.
---

Calculator/Calendar Widget
Quick calculations and a place to view all your upcoming scheduled transactions.
---

Skip Loan Payment Widget—new!
Need some breathing room in your budget? Select this widget to see if any of your loan payments are eligible for skips, and submit your request right within Digital Banking.
---

Widget Options Widget
Reorder widgets and select your favorites to customize your view.
---

 Locations Widget
Search for a Mid Oregon location, see business hours and contact information.