Children's Accounts
Help your child learn financial values and lifelong practices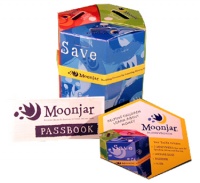 Open a Savings Account for Your Child and Receive a free

Moonjar®
For a limited time, when you open an account for your child, he or she will receive a free Moonjar, a three-part money box that teaches kids to Save, Spend, and Share.


Moonjar is a fun tool to help kids learn about money and how to use it
Three-part money box teaches children to Save, Spend, and Share
Moonjar includes Passbook and Moonjar Guide

Learning to save can be one of the most important financial lessons a parent can teach their kids. A significant way to teach them the value of saving is to open their own savings account at Mid Oregon Credit Union.
The sooner they start the more time and practice they will have.
The impact of having a savings account for your child can be measured in many ways. Not only in terms of dollars and cents, but children will become more aware of their money choices and it provides an opportunity to help kids develop an important financial life skill at an early age.
A savings account for your child can have a positive effect:

- Teaches them to save for a "later" reward
- Teaches them budgeting skills and real money lessons
- Teaches them banking language - words like deposit, savings, balance, withdrawal, interest
- A new relationship with Mid Oregon Credit Union will provide a lifetime of benefits!


Visit any Mid Oregon branch and open a savings account with a minimum $5 deposit. Your child must be primary on the account. (The one-time $10 new member fee is waived for minor children.)
Get Started