Your Money is Safe With Mid Oregon
Have recent headlines made you concerned about your credit union accounts? Now seems like the perfect time to remind you about some of the things that make credit unions—especially Mid Oregon—a great place to keep your nest egg safe, secure, and local. 
Our top priority is protecting your finances. At Mid Oregon, all member accounts are insured by National Credit Union Share Insurance Fund (NCUSIF) to at least $250,000 per individual. If a member has over $250,000 on deposit, options are provided for additional share insurance coverage.
Credit union members have never lost a penny of insured savings at a federally insured credit union. 
Mid Oregon is very well capitalized, with total capital exceeding 10% of assets.
Our loan quality indicators are among the best in the industry. Our investments are mostly made up of the loans that we make to our members and local businesses, keeping your money local and sustaining our local economy.
The only credit union headquartered in Central Oregon.
Mid Oregon Credit Union traces its roots back to 1957 as the first credit union established in Central Oregon by a group of teachers and school employees in Prineville.
Today, Mid Oregon Credit Union is the only Credit Union headquartered and doing business solely in Central Oregon.
Join Us and Experience the Credit Union Difference
The main difference between credit unions and banks is ownership. Banks are owned by shareholders. The shareholders elect a paid board of directors that works to maximize shareholder return. In contrast, a credit union is a not-for-profit financial cooperative owned by its members. A credit union's board is made up of unpaid volunteers from the membership, elected by members.
This cooperative system ensures lower loan rates and higher savings rates than typically available at banks, which must maximize profits delivered to shareholders. In contrast, any profits received by the credit union flow back to the membership in the form of lower loan rates, higher savings rates, and enhanced member services.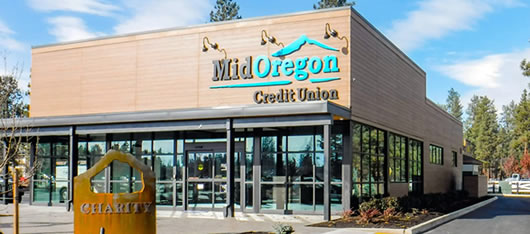 Serving Central Oregon Since 1957
Mid Oregon serves Deschutes, Jefferson, Crook, Wheeler, Lake and North Klamath counties. We have branch locations in Bend, La Pine, Madras, Prineville, Redmond, and Sisters.
BECOME A MEMBER
Eligibility requirements to become a member:
Individuals who live, worship, work, or attend school in (as well as businesses and legal entities located in), Crook, Deschutes, Jefferson, Lake, and Wheeler County, Oregon, and/or those portions of Klamath County, Oregon that are within the COCC Taxing district (served by zip codes 97733, 97737, and 97739);
Members of record of the Mid Oregon Federal Credit Union as of the effective date of the expansion of its community charter on July 23, 1997, to include Crook County and Jefferson County, Oregon. 
Spouses of persons who died while within the field of membership of the credit union; employees of this credit union; persons retired as pensioners or annuitants from the above employment; members of their immediate families; and organizations of such persons.
Become a Member
Our History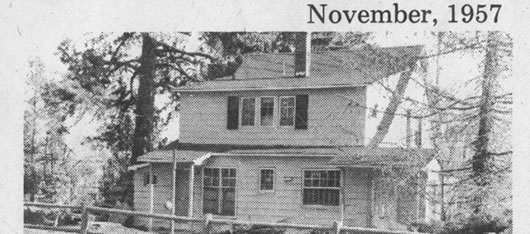 1957
On November 8, eight Prineville educators sign the initial charter to establish "Tri County Teachers Credit Union" in the home of Alma Wauge, the first credit union manager. The credit union officially changes its name to Mid Oregon Credit Union just a few years later in 1961.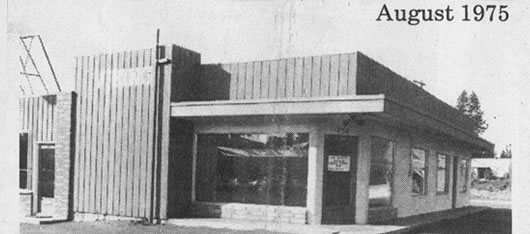 1975
Mid Oregon moves from the Wauge residence to its first commercial location at 734 NE Greenwood St. in Bend. Harley Duus became manager upon the retirement of Alma Wauge.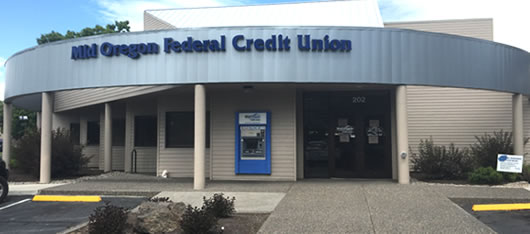 1981
Mid Oregon celebrates its 25th anniversary and moves its headquarters to its first newly-constructed full-service branch at 2nd and Olney Streets in Bend.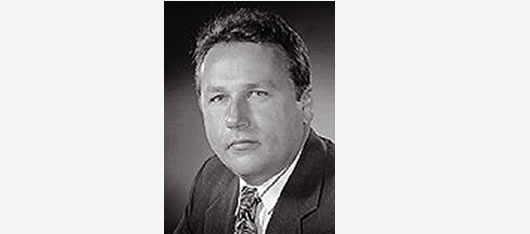 1993-1995
Manager Harley Duus announces his retirement, naming Bill Anderson as the institution's new CEO and President in 1994. The credit union is granted a community charter to expand membership to all residents and employees located in Deschutes, Crook, and Jefferson Counties.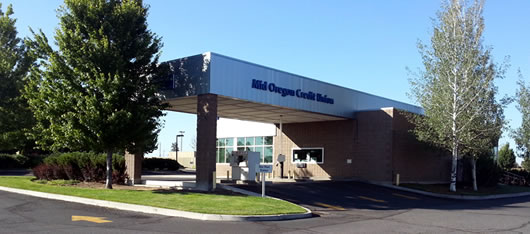 1998-2001
Mid Oregon ushers in the 21st Century by opening its Redmond Branch at SW 17th Place in 1998, and begins a major renovation of the original Olney location. In 2001, the credit union opened its main East Bend headquarters at 1386 NE Cushing Ave. In addition, Mid Oregon cemented its ties to the community during this period by launching its first "Tools 4 Schools" fundraiser in partnership with Family Access Network and Bend Radio Group.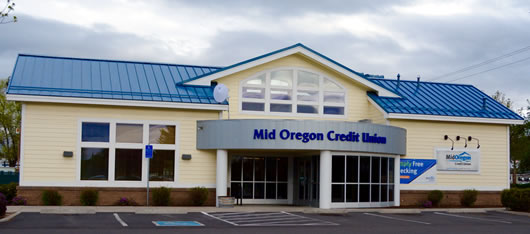 2004-2006
As Mid Oregon celebrates its 50th anniversary, the institution reaches $100 million in assets while expanding its community involvement activities with a major sponsorship of the Great Drake Park Duck Race and the introduction of the Adopt-A-Bear branch fundraiser to benefit Healthy Beginnings. Both events have continued uninterrupted through the present day. In March 2006, Mid Oregon opens its Prineville Branch on NE Hickey Farms Road.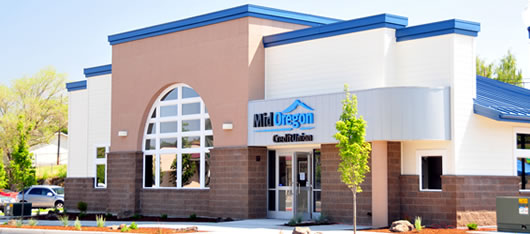 2009-2010
Mid Oregon's newest branch opens on SE 5th Street in Madras in July 2009. In 2010, the credit union will launch the newly renamed Supplies 4 Schools fundraiser as the sole sponsor in support of Family Access Network.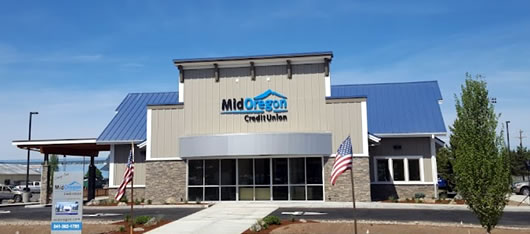 2013-2016
In 2013, Mid Oregon announces its first-ever Holiday Dough branch fundraiser for local food pantries. Growth continues as Mid Oregon crosses the threshold to $200 million in assets and 25,000 members, and opens a lending office on Highway 97 in La Pine in 2014. In 2016, the credit union completes construction on the permanent La Pine Branch at Huntington Road and purchases an office building, the current Combined Communications location, for back-office staff at 18th and Empire in Bend. Charter expands to serve Lake, Wheeler, and northern Klamath Counties.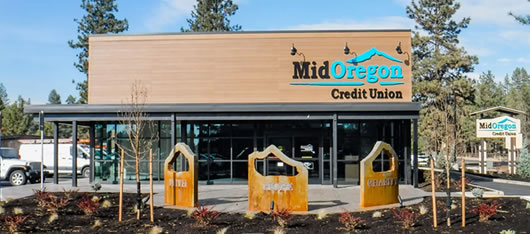 2017-2020
As Central Oregon experiences rapid growth and change, Mid Oregon keeps pace by introducing commercial lending and a Home Loans division, and acquiring the assets of High Desert Bank of Bend. The credit union opens its first location in Sisters in a leased building on Larch Street, and announces its first student-run branch located in La Pine High School. In the height of the COVID-19 pandemic, Mid Oregon announces its new Digital Banking platform and funds more than 80 PPP loans to local businesses while keeping its branches open to serve members. Later, the credit union finishes construction on its full-service Sisters Branch on Arrowhead Trail, next to McDonald's.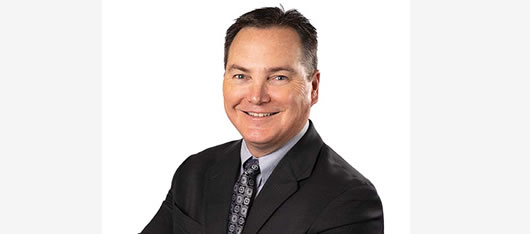 2021-2022
Celebrating its 65th anniversary serving Central Oregon, Mid Oregon expands its Executive Leadership Team and names Kevin Cole as President, in addition to announcing the upcoming retirement of CEO Bill Anderson after 32 years at the helm. The credit union crosses the 40,000 member threshold, and grows to exceed $600 million in assets. Both the Prineville and Madras branches undergo remodeling projects to expand teller capacity and add drive-up services.